Birth Doula Services
A prenatal visit to discuss your medical history prior to pregnancy, prenatal medical history, birth plan, comfort measures and how I can best assist you.
Consultation after each visit with your Care Provider - by email, text, or unlimited phone calls.
The Birth - I'll be there during the whole experience using the following comfort measures:

Hydrotherapy
Imagery
Counter-pressure
Massage
Breathing techniques
Aromatherapy
Encouraging position changes
Other techniques as needed

Support for the birthing method of your choice e.g. hypnobirthing, hypnobabies, Bradley method, Lamaze, etc.
Breastfeeding support.
Phone support within the 24-48 hours after delivery
A postpartum visit.
Please contact Kristy for pricing.
Postpartum Doula Services
Postpartum services are meant to educate and enhance the family's ability to welcome their new addition.
Educational Services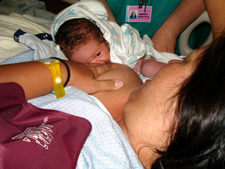 Breastfeeding support
Bottle feeding plan, as needed
Child-soothing techniques
Safe and proper newborn hygiene

Cord care
Circumcision care
Proper bathing
Diaper care

New mother care

Postpartum Nutrition
Perennial care
Cesarean recovery care
Emotional wellness
Other Services
Light housekeeping.
Care for other children.
Nutritious meal preparation.
Please contact Kristy for pricing.